First, we should introduce ourselves!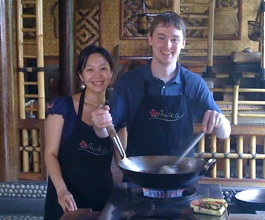 The Learning Indonesian program is a product of a small family business run by us, Shaun and Cici. Indonesia and the Indonesian Language are integral parts of our personal and professional lives.  As a cross-culture family, we find ourselves spending a lot of time immersed in Indonesian language at home as well.  Kaylee, our baby daughter, enjoys listening to both of her parents speak their native languages.   
What we're trying to say is that we live immersed in a rich language environment both at home and in our professional work as well.  We try to make sure that comes through in our work.
We are here to help!
Whether you're using our free program or one of our paid products, we are honestly extremely happy to help you in any way that we can.
Shaun and Cici are here to help you learn.  We know it's sometimes hard to judge the size of the organization by it's website, so we want to let you know something about who we are and what we can do for you.
We invite you to connect with us directly. Don't be shy! Chances are we have a lot in common.  Just drop us an email and strike up a conversation.
[email protected]
[email protected]
About the Program
Learning Indonesian is a complete online Indonesian course geared towards developing conversational fluency in the Indonesian Language.  Each lesson is designed to build on top of the previous lesson. Whether you choose the free or comprehensive premium option, you'll find it a useful way to build your language skills.
The way we run the Learning Indonesian Premium program is bit different from other paid programs like Pimsleur and Rosetta Stone. We are also very close to our customers and love to hear and respond to feedback. Working with a family business means that you get direct access to the people who created the program and care about you as a student and a customer.
One interesting fact that was brought to our attention… Even our modest free program surpasses the available big-publisher paid programs such as Pimsleur in terms of audio material and vocabulary training!  
Important Steps for New Users
1. Be sure you are on the email list. This is how we distribute the study guides for the free lessons and make regular announcements about the program.  You can sign-up by entering your information in the box on the right.
2. Become familiar with all of your learning options! Please visit our programs page.  Even if you're not interested in buying anything today, we'd like to introduce you to what we have to offer.   Remember, both our free and Premium programs start out at same point, Lesson 1, so you can begin with the Program lessons from the start.
3. Try your best.  Enjoy learning this beautiful language!
Useful Tips:
If you have trouble with a lesson, you can go back and practice previous lessons. In fact, many of our listeners go through each lesson 2 or 3 times to really perfect the new material.
If you don't have a dictionary yet, be sure to get one that will meet your needs today and into the future.  We have recommendations for several dictionaries here on the site.
Make lots of mistakes!  Remember… mistakes are critical to learning.  The only failure is giving up.
---
If you have any questions or are interested in finding out more about our premium services, feel free to email us at [email protected].